Shopping Cart
Your Cart is Empty
There was an error with PayPal
Click here to try again
Thank you for your business!
You should be receiving an order confirmation from Paypal shortly.
Exit Shopping Cart
When trying to decide on healthful nutrition choices there is so much info, choices, diets, tips etc. that it gets very confusing and overwhelming quickly.  Every magazine has skinny recipes, different ideas are trending on the internet and people are still following fad diets of the celebraties.  So from Paleo, Mediterrainian, the Shred, grapefruit diet or even carb loading~ What's the scoop?
It is the Soost Outdoor Fit Biz's possition to "Keep it simple."  Now of course there are a few rules such as "you can't outrun poor nutrition".  While I don't count calories, cals in do need to equal cals out.  The best way to follow any set of rules without making your head explode is to eat real food a.k.a. eat clean.  The cleaner you eat the better you will feel and better weight will be maintained.  
Several things happen when you eat real food:
Natural food is full of nutrients and fiber.  This means that you will stay fuller longer and assist your digestive health.
It is low in calories, so you can eat and snack without being hungry or feeling guilty.  Can you over eat on healthy whole foods--yes you can, but it is less likely to happen.
Pay more attention to what you are putting into it.  If you are looking for a change, then focus on foods that fuel you--give you energy and make you happy about your choice.  
Choose more foods that have antioxidents, phytochemicals and are nutrient dense, while choosing fewer foods that have allergens, irritants and non food substances in them.
I know when I eat, which foods will make me feel good and which foods will make me feel bloated, give me a sugar crash or just make me not feel good.  These tend to be comfort foods that I eat when stressed or unprepared.  However, I do not have time to get sick or be too tired~so I focus on the good stuff.
Please also realize that you deserve the best.  Your body does not function with way it should, when you don't eat real food.  So do not go for cheap, boxed, food like substances.  You deserve the rich full colors, full nutrient, real foods that improve digestion, mood, activity level and improved immunity.
Keep things simple.  Its does not matter what name you give your diet as long as the foods agree with you and the food is real and NOT a food like substance.
Spring is here, even if it does not always feel like it yet.  Spring marks new beginings and new life.  The days are getting longer and the outdoors start to call to us.  This is a great time to look at our fitness/health plans.  Make sure everything is on track.
Clean up your eating by surrounding yourself with appropriate food and snacks.   This is a new begining so ditch the super high calorie comfort foods and think light, yummy and summery. Prepare your week and put together your meals and snacks to grab and go.  One day a week to make the rest of the week mindless.
Make sure that you are using a NASM specialist to help you with your program.  By utilizing the specialized & personalized program you will defeat the dreaded plateau.  Your body is smart and learns, so something that may have worked when you started may not be working now.  This could keep you from hitting your goal.  However, this program is specifically designed to keep things moving at an appropriate pace.  By using selected variables as well as periodization (using different phases at different times), your goals will be met while also decreasing your chance of injury.
I hope everyone had a wonderful holiday weekend, spent with family and friends.  New beginings are a wonderful thing.  An opportunity to take.  Enjoy spring time weather and fresh air, it will help you to stay on track.
Soost Outdoor Fit Biz is Proud to bring you the best online solution to your health, fitness and sports performance needs.  There are many services available right at your fingertips to help you reach your specific goals.  So how exactly is your computer supposed to help you reach your health and fitness goals when we are always hearing that they are the problem to start with.
There is such a large percentage of people these days that have full access to the internet.  If you are reading this, then you are part of this population! So why shouldn't I share my expertise with you, just because we live further away or don't have my same schedule?  I want to be fair to everyone:).
Now its true-I'm not going to be there to see you do every exercise or see how much effort you are using.  That accountability is all yours!  However, I am always available for any questions you have via social media and the web.  I personally create your workouts for you based on your current health status, fitness level and goals.  This ensures that you progress properly, won't hit a plateau and reduce your chance of injury.  I can also change and tweek your program as necessary.  I will have access to your nutrition log to see how we can improve on meals and snacks.  I will check in and send reminders.  All of this is tailored just for you.  All you need to bring is desire and the decision that this goal is important to you.
Soost Outdoor Fit Biz uses the dotFit program/website so that you have access to log your food/activity, have access to quality products (should you choose to use them) and you can reach this program from anywhere as it has a great app for your phone.  Also it is very affordable.  It's only $6.95 a month or $69.95 for the whole year.  For those that live in Gillette, one on one sessions are available as well for $30 a session.  Then you have the option to utilize both options.
Just click on the button below to get started.  Make sure on the drop down box to click on my name (Jara Soost) to use me as your personal trainer/health coach.
http://www.dotfit.com/Sign-Up-cid-1898.html" target="_blank">

Today is Motivation Monday!  There is nothing like a Monday to set that restart button and get things moving.  Today focus on you.  How do you perceive yourself?  It is how others also see you?  A little bit of reflection is always good to make sure you are staying on the right track.  Take a step back and see where you are.  Is this the direction you want to be heading? Don't be afraid to list on paper some of the things you want or that already do make up the wonderful you.  Decide whch words suit you best and which ones may still need some improvement.
You are never going to please everyone all the time, but you can be the person you want to be.  BE a go getter! BE active! BE persistant! BE motivated! BE prepared!  BE the best you and do it today.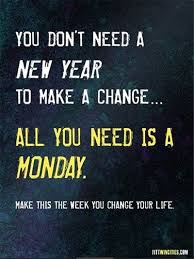 I am always looking for improvements.  I am hoping that everyone is finding my site easy to use and helpful reading.  I just wanted to add a quick tutorial on how to use on line training as I want everything to come easily and hassle free for you.
Through out my site I have dotFit Me buttons for you to click on.  When you click one of these buttons a new window will pop up and you will be asked to enter your information.  When the window pops up the screen will be split into three sections.  On the first section it wil ask if you are part of or affiliated with a dotfit club.  Leave the first drop down, but the second one--click on the drop down and click my name.  This will ensure that you are getting set up with me as your personal trainer.  The second section will ask you to fill out your name, email, create a password etc.  The third section varifies you have agreed to terms, asked if you want additional emails and then you may click the register button.
Once you have registered you will be taken to another screen that will ask you your goals and current health information.  It takes about 7 minutes to fill out the questionairre.  By filling out all the questions we will be able to determine goals, set your caloric expenditure (approximate calories in vs calories out) and make sure you are healthy/ need consent from your doctor.  After this process is finished you will be able to start logging your exercise and nutrition.  Also, I will be able to go into add cardio, resisitance and/or walking programs to your calendar as well as look at your nutrition log.  Don't forget there is also an app that you are able to download to your phone so that you have access and info with you at all times.
At any time during this process, please feel free to email me at [email protected] and ask any questions.  Now at anytime will you will be able to view or print out workouts designed just for you.  You will be able to work out at your home, your gym of preference or where ever is convenient for you.  If you have any questions regarding the exercises or variables for the exercises, please contact me.  You will have access to your program, written instructions and video of your progam.  
I hope this was helpful in getting you started with your online training program.  I am always looking for feedback, so don't be afraid to leave a comment.
I love the simplicity of healthy living.  Reaching weight loss and health goals comes from the simplicity of moving more and eating clean.  Movement is what helps to keep our bodies functioning properly.  It not only improves muscle function, but movement works as a pump to flush our bodies.  The lymph system completely relies on movement for this purpose, as it does not have its own motion system.
Its recommended to maintain your health with 10,000 steps a day.  That's equivalent to 5 miles a day.  Don't let the numbers slow you down.  You do need to make yourself aware so that it all gets done.  My suggestion is to purchase a pedometer.  A pedometer counts your steps for you.  It will come with instructions to set it up with your personal stride length.  Once you see how much you move regularly throughout the day, you can begin to make changes.  You may be surprised, as most people who are on their feet  most of the day, think they are closer to the 10,000 than they really are.  Depending on your schedule and how ambitious you are, there are options to get your steps in.
The first option is to wake up and "Git er Done!".  Whether you want to go out and enjoy the morning air or hop on the treadmill, you can get it out of the way and begin your day with an accomplishment.  However, you can also take several shorter walks throughout the day.  Even walking 10-15 minutes at a time counts!
Now you have a goal.  Everyday work towards taking more steps than you did the day before.  Once you are up to 10,000 steps a day--Do it EVERYDAY!  You are now well on your way to simply reaching your goals.
Your overall health and well-being revolves around how much movement you get.  Challenge yourself today and make sure you get in your 10,000 steps!
Motivation Monday!  Welcome to the first full week of the new year.  This is the best time to stay focused and stay on top of things.  You don't want your food choices to be bogging you down.  So lets get the week set in advance.  If you have a plan and you have your food ready, then you will be more likely to stay on track and meet your goals.
Make a menu of the meals you need for the week.
Purchase only items on your list.
As you put away your groceries make sure to create your snacks and put it all away in easy to grab and go containers.
This includes putting together as many lunches for the week as you can as well.  Some lunches may be leftovers from the night before.
Its the first week so remember we are just getting started.  Don't take on too much at one time.  Keep reading the blog for tips to keep you on track. When choosing a menu this week. Plan what you want, what you like to eat.  At this point if it has lables on it, that is the best as you will need to log it and keep track  of what you are eating.  Logging your food is the best way to see what you are consuming and keeps you accountable.  If you haven't already registered click the dotFit me faster button to get started today.
http://www.dotfit.com/Sign-Up-cid-1898.html" target="_blank">

As a new year lies before us, we will hope for new and better things ahead.  This is a great time for reflection to see where we have been, which direction we are headed, and what direction we would like to go.
Increased health and fitness is a common goal for new year change.  Without proper goal setting and fore thought, this resolution is easily given up on  and left by the way side.  Everyone has excellent intentions, but without a plan, follow through can be more difficult than anticipated.
Tips to get you started:
Write down your goals.  Be specific.  Example: if your goal is weight loss write down how much, dates to have your goal accomplished etc.
Write down why this is your goal.  Your goal is usually set to afford you something deep down.  Example: if your goal is weightloss you might be trying to decrease your medications, decrease your doc visits, decrease your medical costs, increase how you feel, increase your ability to do other things, increased body image, or self confidence to do new things.
Set up a plan.  If your goal is over there--you need a path directly to it.  Again you need to be specific.  Its a great idea to inquire and get some help.  You might want to talk with your physician and meet with a personal trainer to make sure you are on the right track.  On this site all consultations are free.
Look at the whole picture.  I don't want you to forget your stepping stones.  When climbing a mountain you don't jump in one leap to the top~ you take several small steps in the right direction.  So make sure that even if your goal is set down the road a ways, you have your sight set on today and tomorrow.  Each day counts and is included in your plan.  All these small goals that put you in the right direction are just as important as your overall goal.
Make the plan a priority.  If your plan is great but not a priority and gets put on the back burner~ IT WILL NOT WORK.  
Goal setting is a critical component to keeping you on the path you desire.  Don't be afraid to ask for help.  You can do this! You are amazing!
Happy New Year:D
There is always the question, " What is the one secret ingredient?"  It doesn't matter if you are looking for weight loss, injury prevention, better health, to get the edge on sports.   You are one person made of several different parts.  There is not just one thing that creates and labels us as healthy.
So where is the best place to start?  Under the "Local Programs & Events" tab you can click on the DotFit Me link.  It will bring you to the DotFit site.  You need to fill out the questionairre in order to start the program.  After you have done that I will have access to your page to help you with your nutrition and to create a workout to meet your needs and goals.  This program has a phone app so you can have access at any time, anywhere.
If you are just starting out this is the best place to start!  Now you are able to visually see where you are starting out.  Some may not enjoy this point of the program, but in order to find your proper path you need to know where you are starting from and where you want to be heading.  After answering the questions we will see what your BMI is currently, how many calories you are buringing on average and how many as well as what kind of calories are going in.  I love the visual this program has, plus we can keep track of extras like sodium, cholestorol etc.  Once we see what the starting point is--then we can see exactly what needs to be tweeked.
In the end its a combo of nutrition, exercises (including sets, reps, rest, tempo and duration), timing, metabolism and accountability.  You can do it.  You are the only secret ingredient.  I can show you the path, but I cannot reach your goals.  Always feel free to ask me questions.  I am always here:)
Every journey begins with a single step~Maya Angelou
Today is Motivation Montra Monday! I love Mondays because they give you focus.  Today you are on a journey to where ever you want to go, even if its not that far.  You still have to make sure you are headed in the right direction.  What step did you take today to keep you on the right path?  Did you walk farther than you did yesterday?  Did you swap out a healthy snack for an unhealthy one?  Maybe you are working on getting enough sleep.  Whatever it is that you are need to be focusing on to lead to the next step, today is the day to DO IT.  GET IT DONE:D
/